Wire products for textile applications
BRUKER-SPALECK supplies the specific flat wire product for your weaving application.
Our developed product range of reed wire for the modern weaving machines sets standards worldwide with highest levels of quality. Thereby we support the reed makers at the best to enable a econimic and technical challenging manufacturing.
Grades
Stainless grades: Laminox ® PLUS, Laminox ® TEC
Carbon steel grades
Designs
Cold rolled
Rolled and hardened
Cut from strip
Dimensions
All common widths from 2.2 to 12 mm
All common thicknesses from 0.12 to 1.00 mm
Tolerances
Delivery options
Standard spools of 18 kg
Or customer request for special requirements
Projects
Customer specific requirements will be supported from our team
As a result of supporting the reed makers for years, we can offer a wide product range in different quality grades for nearby every established weaving machine.
Designs
AIRINOX ®: Airjet profile dents in different grades for wool/synthetic fibers
BACKINOX ®: Profile dents in different grades for terrycloth weaving
BENDINOX ®: NF profile dents in different grades for fine fabric weaving
BENDINOX ®: VF profile dents for velvet weaving
BOOMERANG ®: Profile dents for carpet weaving
Special designs
Dimensions
For all common weaving machines in all common thicknesses from 0.12 mm
Projects
Customer specific requirements will be supported from our team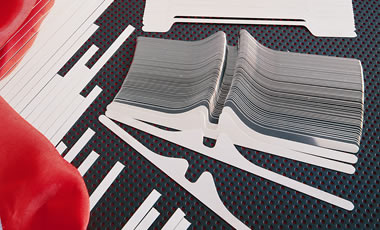 Contact
Product group: Wire products for textile applications